Product Description
Free Shipping! 1440pcs/Lot, ss4 (1.5-1.7mm) Crystal AB Flat Back Nail Art Glue On Non Hotfix Rhinestones
1440pcs/Lot, ss4 (1.5-1.7mm) Crystal AB Flat Back Nail Art Glue On Rhinestones / Non Hotfix Rhinestones
Item Name: Glue On Non Hotfix Rhinestones
Material: Crystal Glass
Color: Crystal AB
Facets: 8 cut
Stone Size: ss4
Size in mm: 1.5-1.7mm
Technique: Glue On, Non Hotfix
The Back: Silver Foiling
Packing Detail: 1440pcs (10 Gross) / Bag
Condition: High Quality and Brand New
Grade: AAA, MC
Use: Bags, Garment, Nail Art, Shoes, Cell Phone, Box, Pen, Furniture, Greeting Cards, etc
| | | | | |
| --- | --- | --- | --- | --- |
| Stone Size | Size in mm | Facets | Packing Details | Net Weight |
| ss4 | 1.5-1.7mm | 8 | 1440pcs(10gross)/Bag | 6.8g |
| ss5 | 1.7-1.9mm | 8 | 1440pcs(10gross)/Bag | 8.2g |
| ss6 | 1.9-2.1mm | 8 | 1440pcs(10gross)/Bag | 10.2g |
| ss8 | 2.3-2.5mm | 8 | 1440pcs(10gross)/Bag | 17.3g |
| ss10 | 2.7-2.9mm | 10 | 1440pcs(10gross)/Bag | 20.6g |
| ss12 | 3.0-3.2mm | 10 | 1440pcs(10gross)/Bag | 36.1g |
| ss16 | 3.8-4.0mm | 12 | 1440pcs(10gross)/Bag | 55.8g |
| ss20 | 4.8-5.0mm | 14 | 1440pcs(10gross)/Bag | 89.3g |
| ss30 | 6.3-6.5mm | 16 | 288pcs(2gross)/Bag | 65.5g |
| ss34 | 7.0-7.2mm | 18 | 288pcs(2gross)/Bag | 38.7g |
| ss40 | 8.35-8.65mm | 20 | 144pcs(1gross)/Bag | 71.4g |
Color Chart for your reference: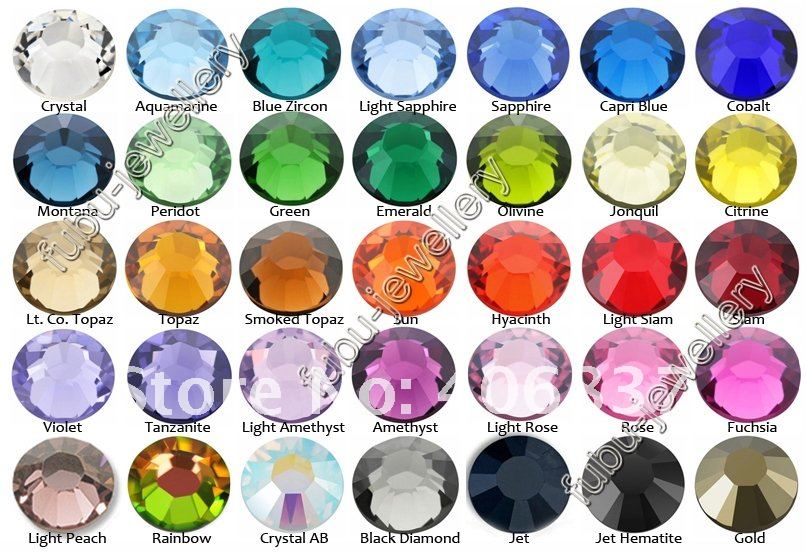 Flat Back Non-Hotfix (NHF) Rhinestone :
They are loose crystal components with platinum foiling on the back (mirrored), which have a flat underside, they can be applied with glue (such Gem Tac glue) to different materials and very easy to glue onto virtually any material, available in a wide range of colours, shapes and size. These are perfect for adding that sparkle to fashion clothing and wedding dresses, mobile phones, nail art, greeting cards or other decorative items !
(Never use Super Glue or Hot Glue to set Rhinestones, it will change the colour of the foil backing, for nail art we recommend nail glue)
How to apply with glue: Place glue spots onto the fabric in whatever patterns you want. The glue spots must be smaller than the rhinestone you are using, the glue should just come around the rhinestone edge. You want to glue the rhinestone glass edge to the fabric, not just the back of the rhinestone.
Non Hotfix Rhinestones Application Instructions:
1. Place stencil on garment and use sticky tape to avoid stencil from moving.
2. Place glue spots onto the fabric in whatever patterns you want about 10 – 20 at a time and apply more spots later so the glue will not dry out before you apply all the rhinestones. The glue spots must be smaller than the rhinestones you are using, the glue should just come around the rhinestone edge. You want to glue the rhinestone glass edge to the fabric, not just the back of the rhinestone but if the glue slightly come out of the edge its ok as Gem Tac dries clear.
3. Before you place rhinestones on the glue spots leave about 20 seconds for the glue to settle on the surface, then it will be easier to place rhinestones on.
4. Leave for 3 hours before removing stencil.
Please note : After applied please leave for 24 hours before wash, during this period, handle the fabric with care.
To launder:
This is to help you with laundering Non hot fix rhinestone garments, this components and design are washable.
1. Turn the garment inside out and wash in cold or warm water on gentle cycle and use a soft wash bag to protect the crystals.
2. Washing with light weight garments.
3. Dryer on low heat or air dry. Allow garment to cool before turning right side out or the best is to line dry.
Highly advised to hand-wash any items with glued rhinestones.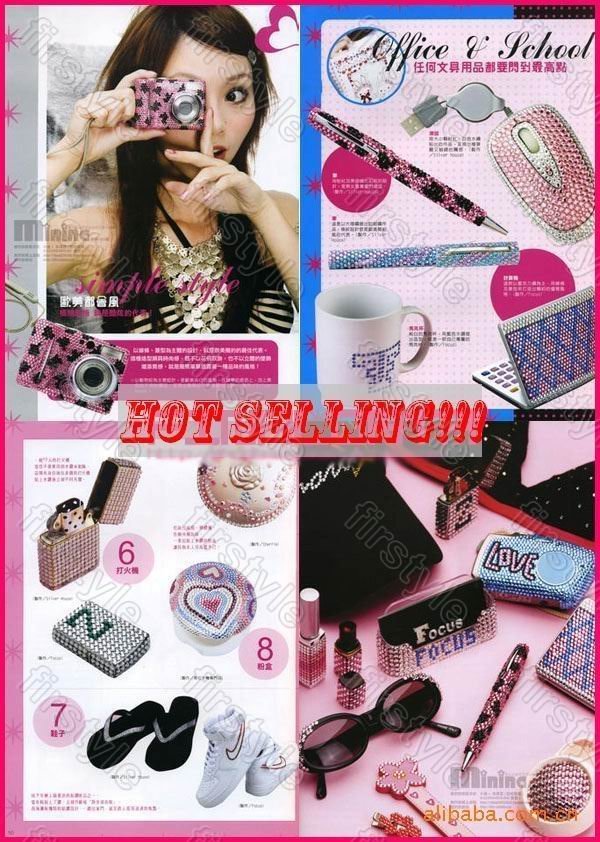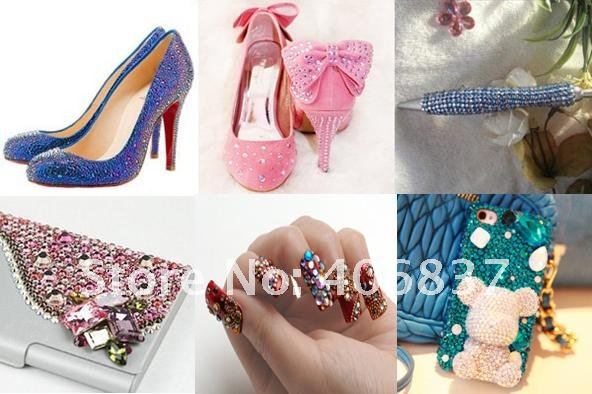 Shipping Terms
· We will deliver the items to the shipping address you left in Aliexpress. In order that you can get the shipment normally, please complete your shipping address carefully.
· We can send out the items in 3-7 working days after receiving cleared payment. Each parcel will have a tracking number for your tracking.
· For free shipping, Our standard shipping method is China Post. It usually takes 10-25 days to arrive to most of countries. But to some countries or rural areas, it may take even longer time due to the not frequent airline or inspection by the customs.
· If you are urgent to get the goods or China Post's service doesn't cover your country, you can choose express delivery via DHL, UPS, TNT, FEDEX, EMS. In general, by UPS Worldwide Express Saver, you can get the shipment in 1-3 working days after we send out the shipment, but it is more expensive; By DHL, UPS, TNT, FEDEX, it will take 3-5 working days before you get the shipment. By EMS, it will take 5-8 days to your place.
· If you don't get the goods over 30 days after we send out the shipment, please email us directly. We would be with you to resolve the case. Please trust us, we will provide best service with honest attitude.
Payment
· You can pay us via Aliexpress Escrow through your Bank Card. Full payment must be made within 15 days after you place the order.
· Aliexpress Escrow is one leading third-party online payment platform. Escrow allows you to pay securely online without exposing your credit card details. You can also track delivery of your order and payment is only released to the supplier after you confirm you have received the shipment.
· when you make the payment, your payment just transfers into ESCROW, not our account. Please make sure to confirm the order when you receive the items in good condition.
Return Policy
· If the items are damaged please return them within 10 days for a replacement. Please include the packing slip.
· Within 5 days, if the items are not compatible, usable or damaged, but you are not satisfied with them, you are allowed to return the items in their original packages and good conditions for 100% refund, excluding shipping costs and handling fees.
· Once the return has been received, we will send the refund to you.
· Please note that we will not responsible for returns that are lost during shipping. Please send returns in appropriate packing.
Feedback
· If you are not satisfied for any reasons, please email us before leaving neutral or negative feedback. We will try our best to solve the problem until you are satisfied. Certainly, we will leave a positive feedback to you and your kind help.
· If the items are delivered during holidays, the shipping date will be delayed. If you are unhappy as transport time is delayed, please don`t give us negative feedback for it, because this is not our fault. Please email us and we will communicate with the express company.
· Customer satisfaction is very important to us. If you are satisfied with the items you got, please don?t forget to leave us positive feedback and good detailed seller ratings. The positives feedback is really very very important to us!
· Your satisfaction is our top priority!